XP-Pen Deco LW Pen drawing tablet review – A decent and affordable drawing tablet alternative
If you are either a pro or amateur digital artist, you know what a drawing tablet is. And you probably even have one. And that tablet is probably a Wacom because they have been the "big kahuna" in the tablet market for years. They practically invented the drawing tablet.
What you probably don't know is that more recently, Wacom has gotten some decent (and sometimes really good) competition. Today, if you are on a tight budget, you can have your digital cake and draw on it, too. Introducing the XP-Pen Deco LW Pen tablet. Is it as good as a Wacom? No, it's not—but it's close!
What is it?
The XP-Pen Deco LW pen tablet is a drawing tablet that sits on the desk while the artist looks up at a monitor screen. The Deco does not have a built-in monitor as the more expensive tablets might. It's XP-Pen's affordable answer to Wacom's Intuos line of professional tablets with a few notable differences. The petite-sized Deco is a slate design with a row of express keys (more on those later in the review) and a wireless pen that needs no charging.
The Deco LW has a horizontal drawing area of 10 in. x 6 in. It's light, thin, and easy to maneuver around on the desk, but has rubber feet to help keep it from sliding. There are a row of eight express (shortcut) keys along the side. The tablet can be turned so the keys are on the left or right side depending on if you are right or left-handed.
One of the unusual features of the Deco LW is wireless Bluetooth 5.0. Also new is XP-Pen has rebuilt its wireless pen (stylus) from the ground up. The X3 Elite pen has a ridiculous 8192 levels of pressure at a high resolution of 5080 LPI (lines per inch).
The XP-Pen Deco LW Pen drawing tablet comes in four colors: Green, Pink, Blue, and Black (this review). It is rimmed in a rubber coating for added drop protection.
Specs
Size: 12.5 in x 7.3 in x .35 in (LxWxD)
Screen drawing area: 10 in x 6 in.
Colors: Black, Green, Pink, Blue
8 shortcut keys
X3 Stylus
Resolution: 5080 LPI
5.0 Bluetooth
8192 Pressure Levels
10-hour battery life
Compatibility: Windows 7 (or later), Mac OS X 10.10 (or later), Android 6.0 (or later), Chrome OS 88 (or later), Linux
In the box
XP-Pen Deco LW Pen drawing tablet
X3 Elite stylus
Nib extractor
USB to USB-C adapter
USB to Micro USB adapter
USB cable
10 extra nibs
Quick Guide
Bluetooth Receiver
Design and features
XP-Pen has been in the pen tablet market for a few years. They started out by making really cheap tablets, but as time passed, quality improved. Their line of pen and graphic display tablets consistently undercut Wacom in price. I've reviewed a few XP-Pen tablets: Artist 22 Display, Deco Fun Graphics, Artist Pro 16, and one of my favorites—the Artist 24 Pro. Each tablet is improved on the previous version.
XP-Pen makes two Deco L models: Deco L (no Bluetooth) and Deco LW (with Bluetooth 5.0). The LW version in this review matches the regular Deco in every aspect—except Bluetooth. I suspect the LW weighs a bit more because of the required internal battery, but it's not heavy at all. It can be a portable accessory to any laptop you might wish to use outdoors. XP-Pen does not indicate how much the Deco LW weighs on their website.
Bluetooth may or may not require the supplied USB dongle to work—it depends on your computer model and setup. I (stupidly) tried it with the dongle on my MacBook Pro laptop and the results were … interesting. With the USB-C dongle attached, the screen would flicker and jump around. It was unusable. Then I tried the Bluetooth without the dongle and everything worked as advertised (I need to read the instructions more carefully). The dongle is USB A, but XP-Pen supplies USB-C and Micro USB adapters if needed. Battery life when using Bluetooth is rated at 10 hours, so if you plan to go wireless every day, plan on re-charging every night.
XP-Pen says the Deco LW will work with Android. All of my digital gear is Apple, so I will have to take their word for it.
When wired, the XP-Pen Deco LW Pen drawing tablet receives power from the USB cord—no power brick is needed. The tablet can easily be set to rotate 90° for portrait use or 180° for left-handers which places the shortcut keys on the right side as opposed to the left.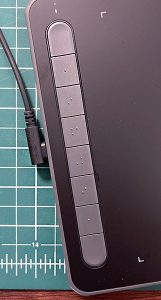 Speaking of shortcut keys, the Deco LW has 8. Each can be set to just about any shortcut you need and can also be app-specific—meaning each key can perform different functions depending on the app being used. It's easy to set up and easy to use—except I don't. I've stated in previous reviews that I am old-school and am used to using my trusty keyboard for shortcuts. Old habits die hard, I guess.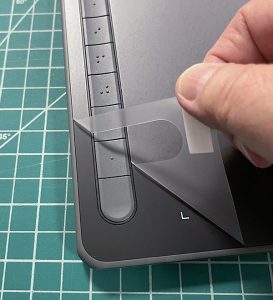 The LW is thin. The on/off switch is placed along the same side as the shortcut keys, near the USB-C port.
The new X3 Stylus (pen) is lightweight (3 grams) and comfortable to use, although I prefer the slightly heavier weight of the XP-Pen Artist Pro pen I use day-to-day. That pen feels more substantial. As with most tablet pens, there are two shortcut keys barrel itself. And like the tablet's shortcut keys, I turn them off. Pressure sensitivity is over 8,000 levels—meaning you can smoothly vary the weight of your line as you draw.
The Pen is wireless and battery-free (aren't they all, by now?). It supports 60° tilt.
Drawing with the XP-Pen Deco LW Pen drawing tablet feels like other tablets. the drawing surface is slightly rough, providing a pencil-on-paper feel. The downloaded XP-Pen driver allows countless settings for the keys. Plus the tablet can be mapped to fit the monitor you are using.
Some artists have trouble looking up at a monitor without looking at their hand while drawing. It does seem difficult at first, but you adapt quickly to working like this. It's easy to mentally equate the tablet's proportions to the monitor you are working from. Its small 10×6 size makes it easy to quickly navigate the entire monitor with minimal arm movement. Using the pen with its pressure sensitivity makes drawing or photo manipulation a breeze. There are plenty of extra drawing nibs when one wears down.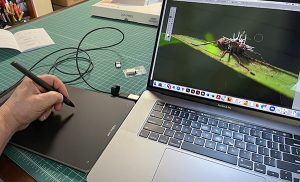 What I like
Performs well above its price
Great for new digital artists or even seasoned ones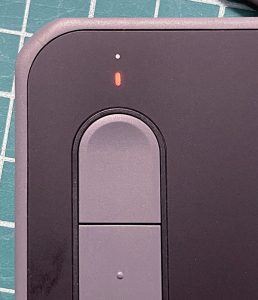 What I'd change
The stylus feels too lightweight
There may be issues with the MacBook Pro and its Bluetooth
Final Thoughts
If you are just starting out in the digital art field and have a tight budget, the XP-Pen Deco LW Pen drawing tablet is almost as good as a Wacom Intuos. It works flawlessly (on my iMac) and provides a professional experience at a fraction of the cost of Intuos. The drivers are not quite as good and the tablet feels a bit cheaper than an Intuos, but not that much cheaper. In other words, the LW performs well above its price. As good as they are, Wacom cannot say the same thing about their tablets.
The XP-Pen Deco LW Pen drawing tablet is only $20 more than the L. If you think you will ever want to go wireless, you might as well spend the extra 20 bucks on the LW.
Where to buy: XP-Pen
Source: https://the-gadgeteer.com/2022/05/13/xp-pen-deco-lw-pen-drawing-tablet-review-a-decent-and-affordable-drawing-tablet-alternative/
Sign up and stay in touch with our promotions
Be the first to know about special offers and our latest product offerings.